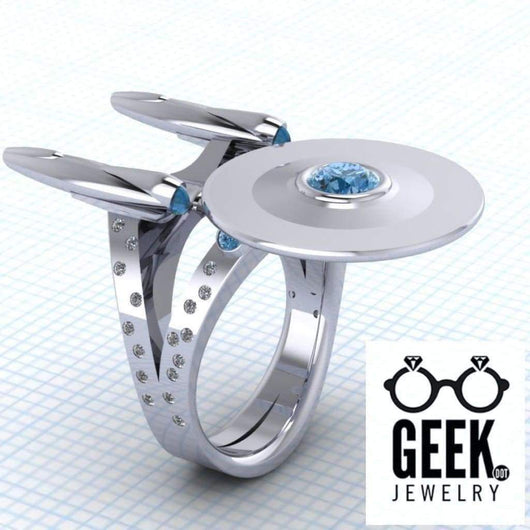 The Original Boldly Going Ring!- Ladies
Geek Dot Jewelry
Regular price $ 895.00 Sale
poup with stuff in it
close
It took light years of travel through the galaxies to get the details right. Any captain or commander would be proud to sport this ship as it effortlessly glides through the universe of bling.
Available in your choice of metals and gems including-
~White gold with Color enhanced Blue diamonds and white diamond galaxy
~White gold with topaz and white diamond galaxy
~Sterling silver with blue topaz and CZ (sterling model will be slightly thicker for strength)
And the ULTIMATE ~ Platinum with Blue color enhanced diamonds and white diamond galaxy.
So prepare yourself to boldly go where no jewelry has gone before...
Since all of our items are made to order, please allow 4-6 weeks for production.
♦♦♦♦♦♦♦♦♦♦♦♦♦♦♦ About The Artworks ♦♦♦♦♦♦♦♦♦♦♦♦♦♦♦
Our Artwork And Media Trademarks

Paul Bierker / Paul Michael Design et al creates artwork inspired by popular media subject matter. All works are Copyright Paul Bierker 1994-2022 and beyond . Any use of protected word marks are done purely in fair use scenarios such as Descriptive Fair Use, Nominative Fair Use, Parody Fair Use - for descriptive,comparative subject matter and/or to describe the inspiration for the item of artwork. Paul Michael Bierker in no way claims, represents or warrants ownership of any trademarks, wordmarks or copyright of said media properties.
Paul Michael Bierker also reserves no rights to said property or trademarks.
We create inspirational small run Jewelry Art Inspired by our passions.
**Disclaimer** The pictures shown are computer renderings of live geometry in a CAD model. Therefore the actual piece may look slightly different. Each piece is made by hand in our studio, and there are natural variations inherent to the process. We offer a 100% satisfaction guarantee.