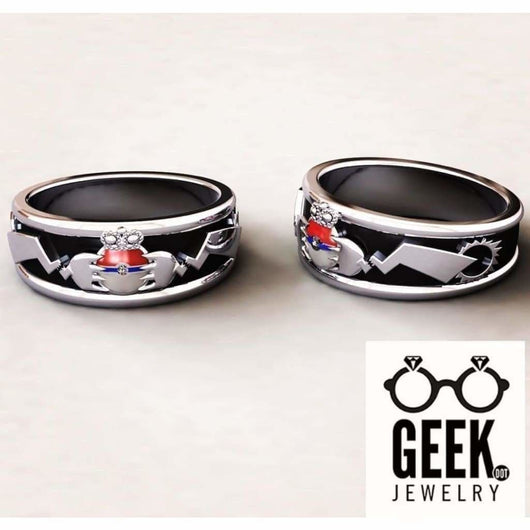 Poke Claddagh Ball Band -Ladies
Geek Dot Jewelry
Regular price €278,95 Sale
poup with stuff in it
close
Geek Jewelry, Sci-Fi Jewelry, Fantasy Jewelry, Steampunk Jewelry, Jewelry to match your mood and your imagination...
♦♦♦♦♦♦♦♦♦♦♦♦♦♦♦♦♦♦♦ About This Piece ♦♦♦♦♦♦♦♦♦♦♦♦♦♦♦♦♦♦♦
Gents Custom  Poke Bands
Catch this puppy if you can! In the old Irish tradition Who needs to capture a Heart when you got a Poke Ball!!! Catch it if you can...
Available in sterling silver Steel, Cobalt, 14K yellow, white or rose gold, Palladium, and Platinum.
Other Ball colors are available upon request  Just note at check out!
♦♦♦♦♦♦♦♦♦♦♦♦♦♦♦ About The Craftsmanship ♦♦♦♦♦♦♦♦♦♦♦♦♦♦♦
The pictures shown here are computer renderings, provided to give you an example of the foundational style of a particular piece. Because your piece will be custom created especially for you, either through the options offered in this listing, or by Special Request (Formal Custom Order), the finished work may look different than the image shown here depending on the materials you select. Each piece is made by hand in our studio and there are natural variations inherent to the crafting process and the materials used. We promise exceptional quality jewelry and offer a 100% Satisfaction Guarantee on this piece. Please see our Policies page for more information.
As all of our jewelry is made to order, please allow 4-6 weeks production time. Thank you!
♦♦♦♦♦♦♦♦♦♦♦♦♦♦♦♦♦♦♦♦♦♦♦♦♦♦♦♦♦♦♦♦♦♦♦♦♦♦♦♦♦♦♦♦♦♦♦♦♦♦♦♦♦♦♦♦♦
Love this piece but want it a little different?
Contact us regarding a Formal Custom Order.
Have us create a Special Request Original Design just for you!